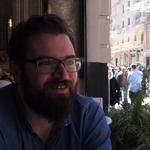 Adam Bard
250 419 3059
adam@adambard.com
Skills
Web Design
14 years
Learned HTML in Grade 7, CSS in Grade 9, and have been doing it ever since.
Python
5 years
I was a PHP developer when I learned about Python. I've never looked back.
Django
3 years
I've done a number of Django projects. Like, this site for instance.
Education
University of Victoria
2003
-
2009
Bachelor of Engineering (B.Eng.)
I've also got a Minor in Business, a Computer Music option, and a Specialization in DSP.
Experience
ASL Environmental Sciences
Oct 2009
-
Present
Scientific Programmer
• Developed data conversion, extraction and visualization software for sonar-based oceanographic instruments in C, using the Labwindows/CVI toolkit.
• Processed, and developed new methods for processing, oceanographic data using MATLAB and Python
• Rewrote old intranet in Django for improved maintainability and extra features.
• Performed IT duties, including hardware maintenance, troubleshooting, and support.
The Martlet Newspaper
2008
-
Present
Web Editor
• Moved martlet.ca from a hosted application to a custom Django application for improved administration. Migrated all data and provided new features, including improved frontpage display, ad management, and media embedding.
• Provided support for users.
Refinry.com
Apr 2012
-
Present
Head Developer
Completed contract development projects for clients. See my freelance work for more of the same.
LadiesChoiceVictoria.com
Sep 2012
-
Present
Head Developer
Headed technical areas of business development, including design and programming of the product. Aided in business operations.
Adam Bard - Web Design
Jan 2007
-
Present
Freelance Developer
• Provided a client with a Django application for accepting and storing highly-variable web-form data, and including audio uploads to Amazon S3.
• Wrote technical articles and how-to's on posterous.adambard.com
• Independently created resumatic.net, a Django resume-hosting application with LinkedIn integration.
• Implemented douglasmagazine.com in Joomla, including custom module development.
• Performed other contract design and development work for a number of clients.
Sparklit Networks, Inc.
Jan 2007
-
Apr 2008
PHP Developer
• Performed extensive PHP development for new features for Sparklit's forum software, Activeboard, including an AJAX chat module.
• Assisted in telephone-based customer service
• Instrumental in rolling out a new corporate website design + improved backend.
University of Victoria - Faculty of Education
May 2006
-
Aug 2006
Web Designer
A co-op position for professor Tim Pelton at the University of Victoria. Position included php development and web design.